Event planning is only part of the day job for some people and is a full time gig for others. It can be exhilarating and stressful at the same time and the planning stage is one of the hardest parts.
At the planning stage, there is still much guesswork. The event planner is trying to frantically confirm how many people to cater for. As well as who those people might be and what the expectations of the boss or bosses might be. Well initiated event managers will have a Filofax of entertainers and enough party planning prowess to turn around a 500 seater, fully catered, corporate event in hours. The less experienced, but equally talented will need more time. To help you with your corporate event here are some insights into choosing suitable entertainment.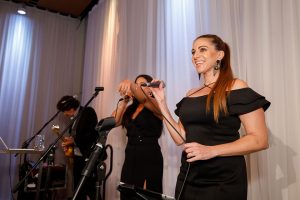 Who Is The Entertainment For?
It is absolutely vital that you have a real understanding of who your event audience is and why they need entertaining. "As the saying goes, 'know your audience' – Not knowing is the biggest mistake any marketer or event manager can ever make. Get the audience wrong and you get everything wrong," advises Frankie Morouse, a marketer at Write My X and NextCoursework.
What will the average age of your audience be? Do they want entertainment that will fade into the background, or something to concentrate on? Will this audience need entertaining throughout the event, or just at the beginning or end?
What Budget Do You Have?
You need to know this at the start. When you are asked to organise an event, get the details you need upfront. Ask for the total budget per head. Then work out what you need to provide and if that budget will cover it. Event planning is a lot about asking questions. Ask venues what they can offer for your group size, ask caterers for menu options, contact an experienced entertainment agency for a range of budget options. At the planning and question asking stages, you do not have to make a decision. Give yourself a week for this stage and then start working out which combination of the answers and samples you have received in reply will work for your audience and budget.
What Kind of Event Is It?
Essentially corporate events are about the organization planning them. An excuse to wow a key stakeholder audience with the organization's generosity. There has to be a reason for the party though. Sometimes that reason is seasonal, an Easter egg hunt for children of staff, a Christmas party for employees. Some businesses and business groups hold annual awards. Others mark a great quarter with great entertainment.
Whatever the type of event, there is a suitable corporate entertainer to suit it. For entertaining families, you can't beat a magician and a DJ for dancing. A more formal event, like an awards night, might call for a charismatic emcee and a swing band or tribute group. Maybe even a blast from the past to dazzle the guests.
"Venue and size are two important things to consider when choosing entertainment," says Roberta Mendinas, Event Manager for Britstudent and Australia2Write. She adds, "A string quartet will be drowned out in a large venue full of people and bands kill conversation at smaller more intimate gatherings".
Know Your Entertainers
Consider this research. Check the books of entertainment agencies for your area then find out where their acts are playing. Grab a friend and head out to check them out for yourself. This first hand knowledge will be invaluable for your career.
Know how different entertainment types work a room also. Some acts are strictly stage bound. These are generally bands and singers who provide anything from a 30 to 90 minute show. Then there are walkers. These are sometimes magicians or music duos. Best suited to a drinks reception or seated dinner, they walk amongst the crowd doing close-up magic or taking requests for songs.
Whatever your event, there is definitely a suitable entertainer that your audience will love. Start your research early and build a network of connections and entertainers.
Katrina Hatchett is an Event and Promotions Coordinator at Academic Brits and writer for Coursework Help. Katrina's entrepreneurial skills mean she is always on the lookout for her next business project. She also writes for the PhDKingdom.com blog.